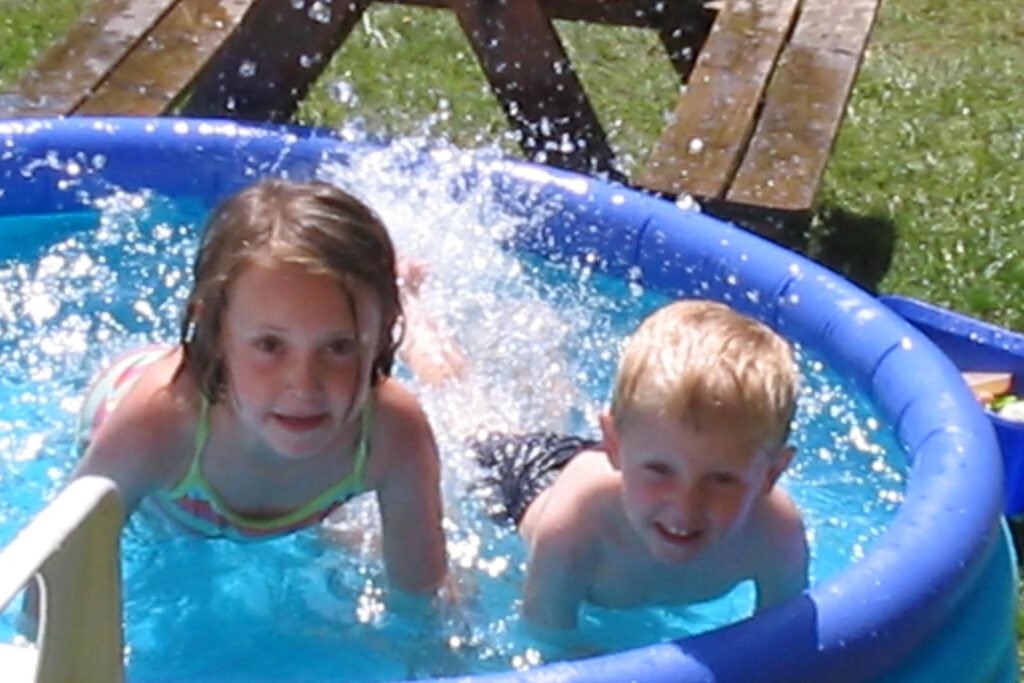 I found an envelope of old photographs. The photographs were of an enormous mud fight I had with my friends from school… secondary school. I do not remember which birthday it was but as teenagers, for one birthday party I decided that I wanted my friends to come over, join me for a lovely walk in the woods, maybe even a jaunty little picnic and then wage war. We created our own mud assault course, held various positions in the woods, the stream, the muddy trail and just went for it. I remember the taste of mud in my mouth, the feel of it in my teeth, the weight of it on my clothes and most of all, the laughter. So much mud ended up in our mouths because we couldn't stop laughing, shrieking, bellowing and howling. It was an unleashing of something none of us realised had been tucked away and forgotten. Whilst charging through our own muddy obstacle course and lobbying clumps of frankly quite rocky mud and clay at each other, we were doing a very simple thing – we were playing.
It felt so good because as teenagers and as adults we do not play. Life becomes serious and even the most jovial of us put away our childish things. We leave playing to children in the school yard, the park and watch from the sides – only interfering to wipe a scuffed knee before they charge off again into the fray.
If I scroll through the pictures on my phone now, they are filled with images of my little nephews grinning as they are covered, head to toe in mud. At two and four years old the world to them is mostly the garden. Come rain or shine they will be playing outside and like magnets to it, are often covered in mud. The once quite hopefully vegetable patch became their own mini mud park. The youngest one spends so much time in it that he might as well be a little parsnip.
If you look back through old photo albums now, the photos of you as a child playing outside are most likely the ones where you are smiling the most. It fulfills two very basic needs we have in our human nature – to be outside and to play. There is something almost primal in the call and comfort these two things bring. The wellbeing of outdoor living and activities is becoming more and more widely celebrated, understood and accepted. Yet, tuning into and releasing your 'inner-child' is still regarded as unnecessary. But, if we look around we can see that outlets for grown-ups to play are available, even if no one has asked the question out loud. Adventure Parks, Escape Rooms, Water Parks, PaintBall, Challenge Rooms and Theme Parks are more prevalent and popular than ever. The readiness for people to sign up to a tough mudder, obstacle trail and an assault course, stems from that inner child in us asking us to go out and play. When you listen to that inner child, you find yourself in the middle of an adventure playground, surrounded by a group of adults and co-workers, shrieking, hollering, bellowing and cackling with laughter once more.
When you take a child to the beach they, somewhat exasperatingly, can't seem to help but completely cover themselves in sand. Sand in their hair, all over their hands and in their mouths. Yet, they don't really care. Whilst we are busy repeatedly trying to wrestle and wipe the sand off them, they are immersing themself fully in the place and experience they are having. Children get so dirty when they play because they are not holding back, they are embracing and examining and fully feeling the activity they are doing – from head to toe. When you visit an adventure park and hurl yourself around an inflatable water park, you are doing the same and so much of the fun stems from how liberating that is. It is especially liberating and rare for us as adults to completely let go and 'be' completely immersed in the moment with the activity we are doing. Our minds are so full of everything we have to juggle – work, families, housework, money, anxiety, stress and distractions. Infact, we so often turn to distraction from the distractions in our heads. Adults are more likely to numb and find comfort in 'switching off' by switching on the tv, youtube, and endless scrolling through apps on our phones. It is no judgment, just a fact of our lives. It is the immediate escapism on offer. But, what if we did not try to escape but immerse ourselves instead? One of the best stress releases recommended is to go for a run, to be active. If you look at children playing, they run around everywhere, constantly. It is the excitement of what they are doing but also part of the game, the playing, the fun.
I asked Liz, one of the Directors of the Dorset Adventure Park about her favourite childhood memories. Liz shared that her favourite childhood memories were of playing in the bottom of the garden with her little brother, spending summer holidays covered in sand on Devon beaches, and training the family's golden retriever Pip. Liz revealed that she has many happy memories from being a girl guide and as a teenager, in the Army section of the CCF at school. All of this cemented a love of the outdoors.
How many of the happiest of your own childhood memories involve playing outside? Would you open a drawer and find an envelope of old photographs grinning back at you? Photos of mud fights, sandcastles, woodland dens and of children that are muddy, sandy, sticky and happy.
Find that child in you and come to Dorset Adventure Park. Charge through the mud trail, leap through the water assault course, play total wipeout and make more happy memories to photograph.
Some of the team at Dorset Adventure Park have shared a childhood photograph of themselves.
Can you guess which photo belongs to which member of the team?
Written by Olivia Lowry 2021.